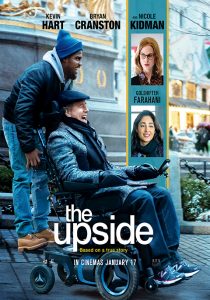 There is no downside to seeing The Upside.
As with most movies, I did little due diligence prior to seeing The Upside so I would not have any prejudices entering the film.
However, I couldn't avoid two inescapable thoughts prior to seeing the movie:  Bryan Cranston never disappoints and Kevin Hart is a much better actor than a comedian (more on that in a bit).  Also, throw in some Nicole Kidman and we might have ourselves a decent viewing experience.
I enjoyed this movie way more than I thought…and way more than the IMDB rating of 5.9 (it's increased to 6.9 since publication) than it currently boasts.
So the question is:  Why?
Why The Upside is Worth Seeing
I am a hugh Dave Chappelle fan.
But, what does Dave Chappelle have to do with The Upside when he's not even in it?
Well, Dave Chappelle has a comedy bit about Kevin Hart and how his son considers Kevin Hart the hot comic to see (see video below).  And his father, well, he's just blah, my father, but nothing near equaling Kevin Hart.
Kevin Hart, to me, is the obvious comic.  There's nothing subtle, nuanced, or clever about Kevin Hart comedy.  It's there; it's fun; it's…tiring.  He's the LCD comic – the Least Common Denominator comic, and we can find hundreds of them on  YouTube.
And so, since he's one of two lead characters in The Upside,  I saw a downside to The Upside.
However, throw in Bryan Cranston and Nicole Kidman to add weight to a light comedy and you have a perfectly balanced scale.

Richard Cummings is a writer, traveler, and web content developer.

Get your copy of his latest book entitled Obvious Conclusions, stories of a Midwestern emigrant influenced and corrupted by many years living in San Francisco and abroad. It just received its first outstanding review "...reminiscent of David Sedaris or Augusten Burroughs" on Amazon UK.

Latest posts by Richard Cummings (see all)