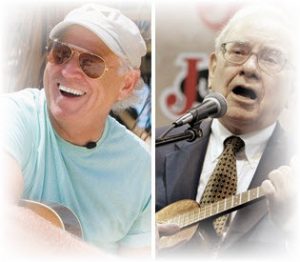 After having just finished a book by Jimmy Buffet entitled A Salty Piece of Land, I got to thinking about who I would rather be:  Jimmy Buffet or Warren Buffet?
Considering my surroundings at the moment, a beautiful sunny beach on the coast of South America, the decision was really a "no-brainer".
I then imagined Jimmy,  setting down his Margarita, pondering this question, and, with a sly smile (they are friends after all), penning his responses on a bar napkin…
10 Reasons Why I Would Rather Be Me Than Warren
My cocaine days are behind me.
My best friend is not Bill Gates.
I look good when I wear a suit.  Wait, I've never worn a suit!
I wrote a book called A Pirate Looks at 50.  He wrote a book called Lessons for Corporate America???.
I can't spend all the money that I have anyway.  Refer to #1.
Where would you rather live:  Margaritaville or Omaha?
My followers have a name.
I eat my Cheeseburger in Paradise.
Who would you rather be?  Comment below…

Richard Cummings is a writer, traveler, and web content developer.

Get your copy of his latest book entitled Obvious Conclusions, stories of a Midwestern emigrant influenced and corrupted by many years living in San Francisco and abroad. It just received its first outstanding review "...reminiscent of David Sedaris or Augusten Burroughs" on Amazon UK.

Latest posts by Richard Cummings (see all)