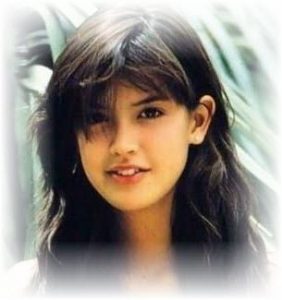 Ah, I love this topic.  The 80's are my growing up time.  Take a walk down memory lane with me as we review the Top Actresses Of The 1980's.
Top Actresses Of The 1980's
Phoebe Cates
Who can forget the scene from Fast Times?  Not me!  Take a look at the images of Phoebe Cates for a visual stroll down memory lane.  You may want to turn off safe search :).   She has received acclaim for several roles in movies and broadway but I'll always remember her for Fast Times.  Read more about what Phoebe Cates is up to.
Glenn Close
We all remember her for her role in Fatal Attraction.  When my dad left the theatre with my mom, he jokingly said in front of a crowd, "I hope my wife doesn't see this."  She boiled in the bedroom and then boiled the family pet!  A role to remember.  Read more about Glen Close…
Kathleen Turner
We need to give a special nod to Kathleen Turner.  Remember Body Heat.  Oh My!  To me, she was the 80's version of Mariah Carey, a full woman who oozes sexiness.  Read more about Kathleen Turner now…
Melanie Griffith
She has become a little over -botoxed now-a-days, but I certainly remember her role in Working Girl.  Not only was it a great movie but it had a line that I will never forget.  "I've got a head for business and bod for sin."   Read more about the career of Melanie Griffith…
Bette Midler
She was one of the Ruthless People!  Having lived in San Francisco for many years, I learned that she was the pride of gay men.  However, as a straight man, am I alone in thiking that Bette Midler is a sexy woman?  I bet she knows her way around a man.  What do you think?  Read more about Bette on Wiki…
Debra Winger
I was young when I saw An Officer And a Gentlemen, but not too young to enjoy Debra Winger's performance in the movie.  She was so sexy in a trailer-park hottie kind of way.  And her voice gives Kathleen Turner a run for the money.  Read more about Debra Winger…
Sally Field
We have to pay homage to the great actresses and Sally Field is among them.  Many remember her for her inspirational performances, but I remember her as the sexy sidekick in Smokey and the Bandit!  Read more about Sally Field…
Others in the running include Jessica Lange, Sissy Spacek, Cher, and Jodie Foster.
Who is your favorite?  Add comments below.

Richard Cummings is a writer, traveler, and web content developer.

Get your copy of his latest book entitled Obvious Conclusions, stories of a Midwestern emigrant influenced and corrupted by many years living in San Francisco and abroad. It just received its first outstanding review "...reminiscent of David Sedaris or Augusten Burroughs" on Amazon UK.

Latest posts by Richard Cummings (see all)