During the movie 21 (read my review here), we are introduced to a seemingly simple example of probability.  The scenario is this: 
A game show host tells a contestant to choose between three doors.  Two doors have a goat behind them…and the other has a brand new car.  He tells the contestant to choose a door.  The contestant chooses door #1.  Then, the host, knowing what is behind each door, reveals what is behind door #3-a goat.  He then asks the contestant if he would like to change his choice or stick with door #1. 
What would you do?
This mathematical scenario is known as The Monty Hall Problem and is an example of the principal of variable change and conditional probability.
My initial thought would be to stick with door #1 as it was the original hunch and the probability is 50/50.  But this is the wrong answer as the probability is not 50/50, which surprised me and has confounded many on the Internet.  On the IMDB board for 21, there are more than 10 pages of discussion regarding this very point.   Who says that everyone these days is intellectually apathetic? 
The right answer?  You should change to door #2 because the probability that the car is behind door #2 is greater:  66.6% to 33.3%.
Why is this?
Well, we all know at the beginning that the probability that the car is behind the door that we choose is 33.3% or 1/3.  But then, then the host reveals that there is a goat behind door #3 and we have just two choices, which most of us assume have an equal chance of having a car behind them.  But they do not and the graphic below illustrates why.
When you begin, here is what your odds looks like:

However, after door # 3 is eliminated, you are left with doors one and two.  You can see in the diagram below why door #2 has a 66.6% chance and door #1 remains at 33.3%: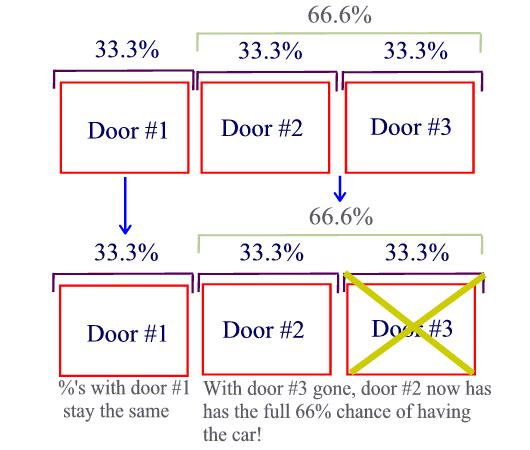 This scenario illustrates the principal of variable change.
Of course, you still might get it wrong, but at least your odds are better.
I'm not a statistician, so if you agree or disagree, feel free to comment below.
Links Related to This Scenario:
Monty Hall Problem:  Read a history of the problem and solution on Wikipedia.
Monty Hall Dilemma (aka 3 door game) :  This is a great link.  The delicate genius provides an easy simulation that you can play!
The Monty Hall Problem:  John Todd writes about it in his blog, providing some more links that you may enjoy.
Wednesday Math, Vol. 23: The Monty Hall Problem:  Matty Boy also discusses the issue on his blog after seeing the movie 21.
Monty Hall Problem YouTube:  Here is a great graphical presentation on YouTube.
The Monty Hall Problem:  Discussions from a Mathematics Professor
Let's Make a Deal:  Here, you can play a simulation of the game.

Richard Cummings is writer, traveler, and web content developer.

Get your copy of his latest book entitled Obvious Conclusions, stories of a Midwestern emigrant influenced and corrupted by many years living in San Francisco and abroad. It just received its first outstanding review "...reminiscent of David Sedaris or Augusten Burroughs" on Amazon UK.

Latest posts by Richard Cummings (see all)