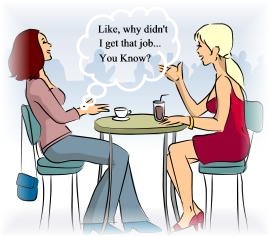 I am, like, sitting in the café, you know, next to two girls, who use "Like" and "You Know" every other word.
They are, like, surprised, you know, that they are unable to, like, get the job that they want…you know.
And, like, I just don't understand it.  You know.
It's like employers don't understand brevity.
Brevity is, like, using very few words to describe like, you know, what you are trying to express.
And really, if you can like get things down to like two words, that is, like, the best brevity.
Like, You Know?

Richard Cummings is a writer, traveler, and web content developer.

Get your copy of his latest book entitled Obvious Conclusions, stories of a Midwestern emigrant influenced and corrupted by many years living in San Francisco and abroad. It just received its first outstanding review "...reminiscent of David Sedaris or Augusten Burroughs" on Amazon UK.

Latest posts by Richard Cummings (see all)