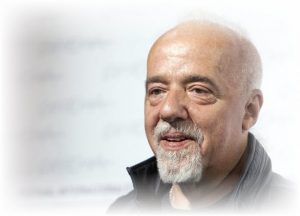 This page contains a reading called La Pareja que sonreía in Spanish from Paulo Coelho's book: Como El Rio Que Fluye: Pensamientos Y Reflexiones 1998-2005. This reading will not only provide you with the tools to learn and pronounce new vocabulary in Spanish [see the ultimate Google Translate Guide], it will also expose you to the timeless ideas of Paulo Coelho.
La Pareja que sonreía
(read by Alejandra, Spanish Instructor in Montevideo, Uruguay)
click the play button to begin
Read Along with the Text Below
Yo estaba casado con una muchacha llamada Cecília y -en una época en que había decido (decidido) abandonar todo lo que no me entusiasmaba-fuimos a vivir a Londres.  Vivíamos en la segunda planta de un pisito en Palace Street y teníamos muchas dificultades para hacer amigos, pero todas las noches, una pareja joven, al salir del pub de al lado, pasaba por delante de nuestra ventana y hacía señas y gritaba para que bajáramos.
Yo estaba preocupadísimo por los vecinos; nunca bajaba y fingía que no iba conmigo, pero lo pareja repetía siempre el griterío, aun cuando no hubiera nadie en la ventana.
Una noche, bajé y me quejé del barullo.  Al instante, la risa de los dos se transformó en tristeza; se disculparon y se marcharon.  Entonces, aquella noche, me di cuenta de que, aunque buscaba amigos, estaba más preocupado por el "qué dirán los vecinos".
Decidí que la próxima vez los invitaría a subir y beber algo con nosotros.  Pasé una semana entera en la ventana, a la hora en que acostumbraban a pasar, pero no aparecieron.  Empecé a frecuentar el pub, con la esperanza de verlo, pero el dueño no los conocía.
Puse un cartel en la ventana:  "Llamen de nuevo."  Lo único que conseguí fue que una noche una panda de borrachos comenzaron a gritar todas las palabrotas posibles y la vecina -por la que tanto me había preocupado yo  — acabase quejándose al propietario.
Nunca más lo vi.
---
The best way to learn Spanish is to practice.  And I hope that this recording, along with the interesting ideas of Paulo Coelho, assists you in this pursuit.
For more on the origins of these readings and my correspondence with Paulo Coelho, visit the post Contacting Paulo Coelho…

Richard Cummings is a writer, traveler, and web content developer.

Get your copy of his latest book entitled Obvious Conclusions, stories of a Midwestern emigrant influenced and corrupted by many years living in San Francisco and abroad. It just received its first outstanding review "...reminiscent of David Sedaris or Augusten Burroughs" on Amazon UK.

Latest posts by Richard Cummings (see all)