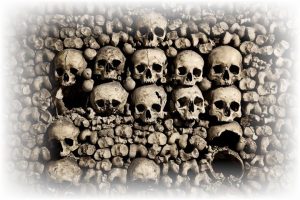 There are many top scary places to visit but not all rank in the top 10.  However, these do.
If you want to do a world tour, or simply read about them, here is a list of the Top 10 Scary Places to Visit in the World!
1. Catacombs of Paris
Scary places are all about dead people!  You are sure to find an enormous amount of dead people in these catacombs.  Read more about the Catacombs of Paris.

2. Haunted New Orleans
New Orleans has a long history of voodoo and magic.  Much of this is accompanied by stories of lost people and peculiar happenings.  New Orleans' history is full of all that scares people which makes these places among the Top Scary Places to Visit in the World.  Read more about Haunted New Orleans.
3. Sedlec Ossuary
Want to see 50,000 real human skeletons?  Well, Sedlec Ossuary is your place.  Located in the Czech Republic, this ossuary contains skeletons of people who have died in a variety of normal and abnormal ways.  Read more about the  Sedlec Ossuary.
4. Underground Vaults
One reader says, " One of the most unsettling experiences I have ever had was in the Edinburgh vaults on our latest trip to Scotland."  Why was it so scary?  Read more about the Underground Vaults in Scotland.
5. The Roman Coliseum
Not only is it a place of fantastic architecture, it is an amphitheatre of death.  How many places seat 80,000 people who have watched live death-matches?  Not many!  Read more about The Roman Coliseum.
6. Transylvania

, Romania:  Land of Dracula
Is the story of blood sucking vampires based in reality?  Well, have a visit to Transylvania, Romania and find out for sure.  Read more about the Land of Dracula.
7. Auschwitz

Concentration Camp
The Holocaust concentration camps are among the most unsettling places to visit in all of the world.  Trust me, I have been.  Among the worst was Auschwitz.  Read more about the Auschwitz Concentration Camp.
8. Whitechapel and Spitalfields
When you first hear about these cities in London, the names may be nothing.  But, have you ever heard of Jack the Ripper?  He made his home here.  Read more about the sorted crimes of Jack the Ripper in Whitechapel and Spitalfields. 
9. Unit 731 Experimentation Camp
This may be the scariest places of all.  The Japanese Army tested all sorts of chemical and biological weapons here…on live people!  It is said that well over 500,000 people were killed as the Japanese did these human experiments.  Read more about Unit 731!
10. Haunted Gettysburg
With all the soldiers that dies in Gettysburg, this area claims to have more ghosts than any in the world.  If you like ghosts, this is the place for you.  Read more about the Ghosts of Haunted Gettysburg.

Richard Cummings is a writer, traveler, and web content developer.

Get your copy of his latest book entitled Obvious Conclusions, stories of a Midwestern emigrant influenced and corrupted by many years living in San Francisco and abroad. It just received its first outstanding review "...reminiscent of David Sedaris or Augusten Burroughs" on Amazon UK.

Latest posts by Richard Cummings (see all)