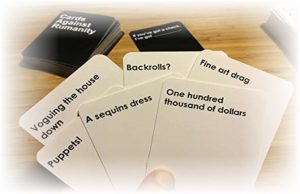 In this Cards Against Humanity Review, I'll tell you why this deliciously decadent game may just be the perfect family gift.
Bah-Humbug! We all love Christmas as that special time that we get to share with our family every year. And, we must face facts–Christmas can also be the most stressful time of the year.
So, when that Holiday tension builds and we've had enough of all of the good-tidings, it's time to get down and dirty with the family and have a great time doing it.
Introducing Cards Against Humanity
Do you want stories of good deeds done this Holiday Season? Do you want to know how people are helping out the world? Would like to read stories of how you can make Christmas better for those who have struggled this year?
Then this game, Cards Against Humanity, is not for you!
Cards Against Humanity is the best anti-Christmas family game for the holidays. It's a family Christmas game where depravity and indulgence are mainstays.
As one reviewer said: "If you aren't a horrible person already, you will be soon."
How Does Cards Against Humanity Work
Cards Against Humanity is a rather simple game. There are black cards and white cards. Each round, a player will ask a question from a black card. The other players will then search their white cards for the best answer to the question.
Sounds innocent enough, right? Well, while the questions on the black cards may be innocuous enough, the answers on the white cards are simply to salacious to print. So, we'll use the photo below to give a sampling of what you're likely to see when your family plays Cards Against Humanity this holiday season:
If a photo doesn't cut it, here is a video of people playing Cards Against Humanity.
Do you "get" the picture? This is not a game for the super-sensitive sister-in-law and her save the world mentality? Or is it? We'll let you be the judge.
As Les Hendrix says in his review: "This game was written by sick, disturbed individuals. If that sounds like a compliment, it was, and you will probably enjoy this game with your warped and twisted friends."
Cards Against Humanity: Not for Kids
Many describe this game as "twisted" fun but, if you let your kids in on the Cards Against Humanity action, you may just be a little twisted yourself.
You see a sample of the game in the photo above! Clearly, this is not something that you play over the breakfast table with 10-year old Johnny and 8-year old Suzy.
It's a game you play with grown-ups (recommended ages are 17 and up) after all the little ones have been put to bed in their superman pajamas. And, remember, even though your probably well into the eggnog when the game ends, remember to clean up after yourself. The little ones will wake up before you do after you stay up all night playing Cards Against Humanity and the last thing you want to do is have to answer all their simple questions like: "Mommy, what is menstrual rage?"
Cards Against Humanity Review: The Final Word
How demented and depraved are we? This game blows away the competition and easily outsells every other game. It has a 5 star Amazon rating with over 14,000 satisfied customer reviews.
The bottom line is this: It's fun to be a bit depraved!
So, just about that time when the Holiday goodness has taken it's exacting toll, put the little-ones in bed, gather the adults around with an over-abundance of cocktails, and indulge your dark sides with the deliciously depraved Cards Against Humanity.
Cards Against Humanity: Customer Reviews
What is going on in our world that Cards Against Humanity is the #1 selling game? People love this horribly decadent side-dish of depravity. Here is what just a few of the thousands of people are saying about it:
Sick, disturbed, warped and twisted. I can't say anything nicer without expletives.Les Hendrix
Very easy game to play. Very rotten humor. Very fun. However sometimes I pee my pants from laughing so hard.Clk1967
The best party game I have ever played, hands down!!! It definitely needs to be played with the right group of people though, preferably those with a decent sense of humor. Be prepared for the best ab work out of your life when you play this one!Zachs Mommy
This Holiday Season, when you have had just about enough of that Holiday cheer, pull out Cards Against Humanity, and somehow, ironically, you'll find yourself enjoying Christmas even more. Cards Against Humanity makes a great family Christmas gift…for the adult members of the family.
Buy the Cards Against Humanity now while supplies last.
---

Richard Cummings is a writer, traveler, and web content developer.

Get your copy of his latest book entitled Obvious Conclusions, stories of a Midwestern emigrant influenced and corrupted by many years living in San Francisco and abroad. It just received its first outstanding review "...reminiscent of David Sedaris or Augusten Burroughs" on Amazon UK.

Latest posts by Richard Cummings (see all)