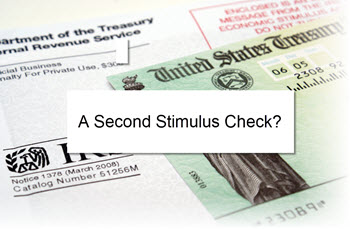 Talks of a second stimulus payment in 2020 have now begun and some are even suggesting a second round of monthly stimulus payments that would continue until the Covid epidemic passes.
Many of you have already received your first 2020 stimulus payment and gotten all of your Coronavirus protective gear. If your first stimulus payment has not yet arrived, you should be receiving your check or direct deposit shortly if you do not exceed the income thresholds of $75,000 for the full payment of $1,200 or $99,000 for a partial payment.
However, given the current unemployment numbers and the economic uncertainty of today, the one-time stimulus payment is simply not enough to stay above water for a large percentage of the population.
Because of this, discussions have begun for a second stimulus payment of 2020 or a second round of monthly stimulus payments.
Initially, the four proposals below were being considered for the second stimulus. By May 12th, the House Democrats unveiled the Heroes Act which the Republicans vow to block. The Heroes Act was passed in the House on Friday, May 15th.

Proposals for a Second Round of Stimulus Payments in 2020
As with the first stimulus payment, many proposals have been put forth for a second stimulus payment in 2020 due to the spreading of the Coronavirus and the immediate and long-term economic consequences.
Though each proposal is unique, Trump has indicated that he will not sign anything that does not include a payroll tax cut. Unfortunately, a payroll tax cut only benefits those people who are currently receiving a paycheck and does nothing for those millions who have recently filed for unemployment.
The current four proposals for a second-round stimulus payments in 2020 are as follows:
We will keep you up-to-date as the talks of a second round of stimulus payments are currently still in their infancy.
We do know from the first stimulus payment that it took about one month from initial discussions to enact legislation that guaranteed a first stimulus payment to all Americans.

Richard Cummings is a writer, traveler, and web content developer.

Get your copy of his latest book entitled Obvious Conclusions, stories of a Midwestern emigrant influenced and corrupted by many years living in San Francisco and abroad. It just received its first outstanding review "...reminiscent of David Sedaris or Augusten Burroughs" on Amazon UK.

Latest posts by Richard Cummings (see all)