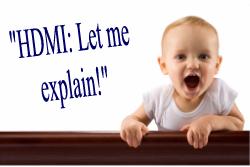 Yesterday, after writing the post entitled Connect TV to PC, my friend saw the term HDMI and asked me: What Is An HDMI Input On A TV? So, for him, and all else who wonder, I thought I would tell you a brief bit about what is an HDMI input on a TV. If you have recently purchased one of the best lcd televisions, you have HDMI and may not even know it. This article will help you find out.
Let's begin with this question:
What Does HDMI Stand For?
HDMI stands for High Definition Multimedia Interface. HDMI contains 19 wires wrapped in a single cable, which is not important at all to know 🙂 . But what this means is that it provides hugely fast transfer speeds and sends audio and video over the same cable.
Currently you probably have a DVD (or VCR if you role "old school") connected to your TV and this DVD connection requires three separate (though usually connected) composite cables…one for video and two for audio (left and right). HDMI requires only the one cable.
What does this mean to you?
Well, like with USB in computers, everything will be connecting to your TV through the HDMI interface. We see this now with Blue Ray Disc Players, video games, and many of the latest camcorders like the awesome Flip Video Camcorder.
What Is The Difference Between DVI And HDMI
As we see in the video series How To Connect Computer To TV, many people now use a DVI to HDMI interface to connect their computers to their LCD TVs. Thus, they often ask What Is The Difference Between DVI And HDMI? When we look at HDMI vs DVI, we could say that DVI is the founding father and HDMI is the perfected son. This is because DVI came first and HDMI, based on DVI, is the evolved version of DVI.
Since they share a common gene pool (sending signals in native digital form), there are only two practical differences between the two. The first being that DVI only sends video signals while, as mentioned above, HDMI can do both.
And the second? Pirates beware…
HDMI has something inherent to it called High Definition Content Protection, or HDCP. This is why the movie industry is loving HDMI. If you are one of those out there who likes to copy the movies that you have rented (BS, are you listening? 🙂 ) at Blockbuster or from Netflix, your pirating career is over. Though, truth be told, there are probably some geeky Swedish, or perhaps Norwegian, computer science majors working on decrypting HDCP right now.
HDMI: A Video Explanation
This video from YouTube provides a great explanation of HDMI and HDCP in video format.
HDMI: Technical Resources & Specifications
I wrote this short description of HDMI for those who will be using it with their new LCD TV for things like blue ray discs. However, if you are a technophile and must know more, I am at your service. The following links provide in-depth resources on HDMI.
The Wise Geek: What is HDMI?: Who do you want to learn technical stuff from? That's right–A Geek! The Wise Geek brings you more info on HDMI.

CNET's Quick Guide to HDMI: CNET always has great technical information. Here they give you the scoop on HDMI.
Tech-FAQ: What is HDMI?: If you want the HDMI tech-faqs, why not learn it from Tech-Faq.com.

HDMI Interface Specifications: For those who really want the nitty-gritty on the HDMI Interface.

The Home Theatre Presents HDMI vs DVI: This article provides a good non-technie explanation of HDMI vs DVI.

What Is An HDMI Input On A TV: Summary
I have tried to provide an explanation of What Is An HDMI Input On A TV? for my friend and Internet visitors. Can you define it now? Do you know what does hdmi stand for? Can you answer the question: What Is The Difference Between DVI And HDMI? And if pressed, could you deliver a soliloquy on HDMI vs DVI?
No? Why not?
Did I not write clearly? Did you not read clearly? Are we not simpatico?
Ok then, the quick and dirty review:
What Is An HDMI Input On A TV: It is the new digital standard for connecting things to an LCD or High-Def television.
What Is The Difference Between DVI And HDMI: HDMI is newer and can carry audio, which DVI cannot. HDMI also provides privacy protection in the form of HDCP. This is bad for BS (BS is my friend who likes to copy his movie rentals…we'll see if he reads this and comments below. We should also include JJ who burns pirated movies of a more salacious nature, but I am way off point 🙂 )
What Does HDMI Stand For: High Definition Multimedia Interface
HDMI Vs DVI: Who wins? HDMI is much better and you'll be finding it everywhere as the time goes by, which it just did…did you see it?
Got it?
Ok, now close your eyes and tell me what HDMI stands for?

Richard Cummings is writer, traveler, and web content developer.

Get your copy of his latest book entitled Obvious Conclusions, stories of a Midwestern emigrant influenced and corrupted by many years living in San Francisco and abroad. It just received its first outstanding review "...reminiscent of David Sedaris or Augusten Burroughs" on Amazon UK.

Latest posts by Richard Cummings (see all)