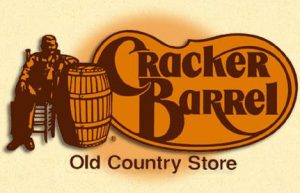 A drive through the deep south affords you plenty of opportunities to eat at Cracker Barrel, so named because the mid-section of all the patrons resembles the shape of a barrel. 
These people are normally found at the local All-You-Can-Eat in their hometowns, but on the road Cracker Barrel has won their affections with extremely large portions and a country store that sells baseball caps saying things like, "I Do It In a Mustang."
The politeness of the employees astounds me.  Sirs and Madame's are doled out as liberally at the Cracker Barrel as indifference is in the big city.  These people all speak to you and ask if you want help.
"Is thar anythang I can help ya find?" a woman asked me in the store.
I said, "Would you happen to have any Nascar hats?"
"Awright," she responded, "a Yankee who likes the finer sports.  Come right this way."
Technically, I am not a Yankee.  When you're born in the Midwest, you're a Yankee to Southerners and a Confederate to Yankees.
After hearing "pardy o'three", we were seated at our table.  The menu looked great; with some great southern cookin'options.  I was eyeing the barbeque sandwich but noticed that there was a healthy heart menu on the back.  Hmmm, maybe I 'll take a look at the light offerings as we'll probably have a big dinner.  The light offerings at the Cracker Barrel include a half-pound hamburger with french fries and a Chicken Fried Steak.  If this is light, how heavy is my Barbeque Sandwich going to be?
I listened to a few conversations around me as my friends were deciding on what healthy heart meal would not kill them.  One enthralled me.  There were several guys at the table next to me enjoying a good meal among friends.  The waitress, who was rather attractive, walked up to the table and asked one of the men who had just finished his tea:
"Would you like another teabag?"  As she said this, his friend tapped him under the table and both had a chuckle.
He responded, "I'm sorry.  I didn't hear what you said.  Could you repeat it?"
"Would you like another teabag?" she said again.  Now, all the men were smiling and she caught on.
Not to be put-off, she added with a smile, "Awright, I'll give you, and only you, one teabag, and I promise you'll finish quickly."  With. that she proudly walked off leaving a drooling table of men.
After we finished our meal, and received "Thank Quewssssss" from the entire staff, we slowly exited the restaurant, maneuvering around several patrons unable to reposition themselves without significant effort.
Where I live in San Francisco, the end of a meal is often met with an aperitif on a terrace.  At Cracker Barrel, it's met with great big chew on the front porch.  Nothin'better than a big wad of chaw after a hearty meal.
I like to imagine one of these large Nascar, dip-loving, Cracker Barrel patrons having tea with one of my more Metrosexual friends in San Francisco.  They would stare at each other with absolutely nothing to say, each seeing a different, alien species on the other side of the table.
That is until the an attractive waitress walks up and says:
"Would either of you like another teabag?"
Other Cracker Barrel Links, Notes, and References:

Richard Cummings is a writer, traveler, and web content developer.

Get your copy of his latest book entitled Obvious Conclusions, stories of a Midwestern emigrant influenced and corrupted by many years living in San Francisco and abroad. It just received its first outstanding review "...reminiscent of David Sedaris or Augusten Burroughs" on Amazon UK.

Latest posts by Richard Cummings (see all)