Returning to Punta Del Este, after being there during the winter, was like returning to a ghost-town and finding it filled with people laughing, drinking, sunning, and enjoying every moment.
The wealthy set from all over South America and the world descend on Punta Del Este immediately after Christmas and the party lasts for a few months.
Punta Del Este reminds me of South Beach in Miami, with tall buildings overlooking the beaches.  And, like South Beach, it is filled with beautiful Latin people.
Want to talk to the beautiful people on Bikini Beach?
Get a FREE 6 Day Spanish Course Before Visiting Punta Del Este!
Word on the streets in Uruguay was that the Brazilians take over Punta Del Este during the first 15 days of  the season (December 26-Jan 10) and, after that, you will find predominantly Argentineans.  There are also Uruguayans of course but many prefer the more tranquil and reasonably-priced beaches of Cabo Polonio, Rocha, and Punta Del Diablo.
But the place to see and be seen is Punta Del Este.  Don't believe me, believe E!:
Wild On E!: Summer in Punta Del Este
Video: Wild On in Punta del este.
The Beaches in Punta Del Este

As a peninsula, Punta Del Este offers two types of beaches:  the bay side and the ocean facing side.  You will often hear people refer to Playa Mansa (bayside) and Playa Brava (oceanside).  The bayside offers a bit more tranquility with less wind and waves.  The beaches on the ocean side are more expansive and there is plenty of room to move, play football (or futbol), and roam around looking at the various sites.
Often, you will hear people say, "Meet us at the beach at stop 16."  All the beaches are numbered, numbers which you can see along the street, and many people have their favorite number.
Bikini Beach in Punta Del Este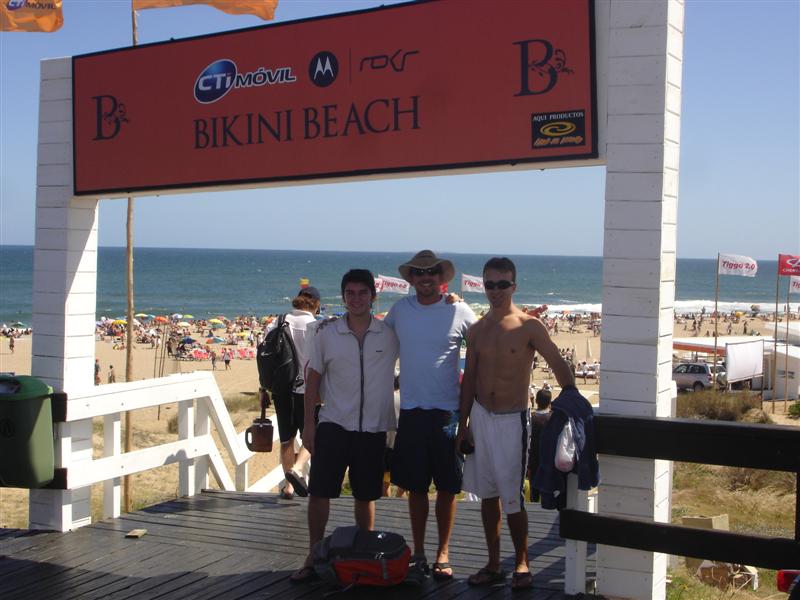 Whoever woefully said, "today's bikinis don't leave much to the imagination" is woefully short of imagination.
After seeing the bikinis in Bikini Beach just outside of Punta Del Este, I have nothing but positive reviews of the South American style bikini.  The way it hugs the curves of a woman and exhibits their fine physique certainly doesn't leave me short of imagination.  Au Contraire–it feeds the imagination.
Any visit to Punta Del Este is incomplete without a visit to Bikini Beach.   View some of the bikini beach photos below and, if that doesn't entice a visit, you too may be woefully short on imagination:
Nightlife In Punta Del Este
The local catchphrase:  "There's always time to sleep in the winter!"
If you are from North America, or Europe, and you are reading this:  Be Prepared.  Nightlife in Punta Del Este truly begins at about 2am or later.
I remember asking some friends in Uruguay:  "If you go out at 2am, and arrive home at 8 or 9 in the morning, how do you enjoy the beach during the day?"
"Well," came the collective response, "we still go to the beach everyday."
This is true.  However, I realized the term day has significant elasticity here.  To many in Punta Del Este, the beach day begins at about 2 or 3pm in the afternoon.  If you are an early riser, you will be heading out the door in the morning before most party-goers get home from their evening.
Don't believe me?
One night we were going out to the clubs and my friend said, "oh, I forgot my sunglasses."  Sunglasses at the bar?  Is your Future So Bright You Have to Wear Shades?  No!  The hipsters all know that they'll be leaving the clubs when the sun is coming out and so they'll need their sunglasses for the homeward journey.
For many, nightlife in Punta Del Este does not take place in Punta Del Este; nightlife happens in La Barra, a small town about 10-15 minutes outside of Punta Del Este filled with many different bars and discos.  If you don't have a car, you can get there by bus.  Or, if you are female, there are many cars who will eagerly escort you from Punta Del Este to La Barra.  Just look your finest because the competition is fierce.
My friends and I ventured out in Punta Del Este many times as well.  There are many bars in the port area and along the beaches that are packed with beautiful people every night.  View the links below for the hot nightspots in either place.
Punta Del Este Sunsets
Since the nightlife continues well into the day, our schedule included many Punta Del Este sunsets.  We would wake up to hit the beach during the day (at about 3pm) and then take in the sunsets along Playa Mansa, just in front of the Conrad Hotel.
After the sunsets at about 9:15, it would be time for a little nap before the nightlife.  Napping at 9pm?  In your workweek vernacular, you might refer to this as a paradigm shift.
Embrace the shift-it's well worth it!

Richard Cummings is a writer, traveler, and web content developer.

Get your copy of his latest book entitled Obvious Conclusions, stories of a Midwestern emigrant influenced and corrupted by many years living in San Francisco and abroad. It just received its first outstanding review "...reminiscent of David Sedaris or Augusten Burroughs" on Amazon UK.

Latest posts by Richard Cummings (see all)