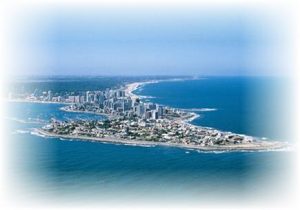 Punta Del Este, Uruguay is unlike any other beach town in Uruguay.
Whereas most beaches in Uruguay are more laid-back and filled with actual Uruguayans, Punta Del Este during the South American summer is the hub of South America's (and the worlds) elite.
My first exposure to Punta Del Este was not in the summer.  It was at the end of September, the beginning of the springtime in Uruguay, when winter is slowly releasing its grasp on the cold weather.  We were fortunate to have a good day at this time of the year and decided to take advantage of it with a visit to Punta Del Este.
Punta Del Este is a short 1 ½ bus ride from Montevideo and can be easily visited for a day trip.  But to visit Punta Del Este for just one day is like going to the Egyptian Pyramids, saying "sweet looking triangle dude" and then leaving after 5 minutes.  This is why I chose to visit repeatedly.
When you spend time in Uruguay, you'll inevitably hear, "Have you been to Punta Del Este yet?"  Punta Del Este is to Uruguay as the Golden Gate Bridge is to San Francisco or the Arch is to St. Louis.  But like many local tourist destinations, many Uruguayans avoid Punta Del Este like the plague (more on this later).
So, with all the talk, my cohorts and I wanted to visit Punta Del Este on the first relatively warm day we had.  I was told that not many people would be there at the end of September and this was just what I wanted.  I wanted to see how a city transforms from a quaint small town to a thriving, world class resort town filled with a South America's elite.
The bus drops you off near the very center of Punta Del Este, near many hotels and hostels.  Since it was off-season, we did not pre-book anywhere and it was easy to find an inexpensive hotel.  We paid only $40 for a nice size room with 3 beds.  In January, this room would be well over $100.  Supply and demand…
The laws of supply and demand are exhibited nowhere more clearly than in Punta Del Este.  For some reason, this concept fascinated me.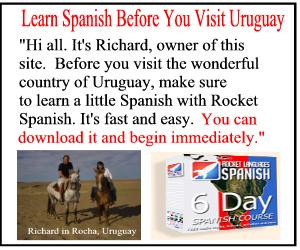 When we arrived in Punta, it was more or less a ghost town.  Much like Miami or South Beach in Florida, the beaches are shadowed (often literally) by the high-rises that outline them.  On this beautiful day at the end of September, there was nary an occupant in these gorgeous buildings.  Nobody.  Each apartment, condo, and penthouse had had their shades drawn since the previous March.  These premises would not be entered again until after Christmas.
My friends and I were interested in renting one of these spots for the month of January.  Even though we heard it might be expensive during the summer, one look at all of these empty apartments makes you think you might be able to strike a deal.  Supply seems so great, and based on the present September view, demand is non-existent.
We confidently entered to the inmobiliario, the Uruguayan term for Real-Estate Office, foreigners  ready to acquire out home in paradise for the month of January.  We exited almost as quickly thinking…that can't be right.  For a paltry studio for the month of January, the price was $3,500.  Well, we were not looking for paltry but the price for plush was upwards of $7,000 to $10,000 to $20,000 per month!
"But they're all empty…", we doth protested.
The agent gave us that well-deserved You're a foreigner and don't know anything look.
"What if we wanted to rent one of those apartments for the whole year?" we asked.
"Well," she said, "it would be about the same price as renting it for January and February."
And that's it:  supply and demand exaggerated to the nth degree.  Landlords have a choice:  Rent their apartment for an entire year for the same price they may be able to get for two or three months.
I had one more question that I wanted to ask:
"How does the average Uruguayan afford it here then?"
"The averaged Uruguayan doesn't." she plainly responded.
When the summer came, I saw this first hand.  Punta Del Este hosts many more Argentinians, Brazilians, and other wealthy South Americans than it does Uruguayans.
As I love the Uruguayan people, this diminished my enthusiasms somewhat.  But, as it would be foolhardy of me to limit my current South American experience to only Uruguayans, I resolved to return to Punta Del Este early and often come summertime.
I employed the overtly stupid secret of The Secret when we returned to Montevideo.  "We will get a place in Punta.   We will get a place in Punta.  We will get a place in Punta."
Sure enough, my friend Brendan called me two weeks later and said, "I got a place in Punta."  Ah, the power of positive thought.  Brendan rented a nice 1 bedroom apartment in Punta Del Este for the month of January for only $1500 through some connections in Montevideo.  And he was nice enough to extend an open invite to all of his friends.
As such, I am able to bring you the story of Summer in Punta Del Este, and visions of the bikinis at Bikini Beach just outside of Punta Del Este.

Richard Cummings is a writer, traveler, and web content developer.

Get your copy of his latest book entitled Obvious Conclusions, stories of a Midwestern emigrant influenced and corrupted by many years living in San Francisco and abroad. It just received its first outstanding review "...reminiscent of David Sedaris or Augusten Burroughs" on Amazon UK.

Latest posts by Richard Cummings (see all)