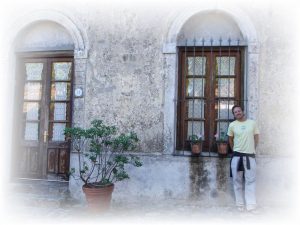 My Uruguayan friend Vicky and I took a trip to Colonia, Uruguay last week.
Colonia is town situated along the border between Argentina and Uruguay.  Most folks pass through here on their short journey to Buenos Aires (the quick boat gets you there in just an hour).  It's well worth it to take the time to visit Colonia rather than just passing through.
Colonia is a strong mix of Spanish and Portuguese history.  The two empires fought endlessly over Colonia like she was a woman neither could live without.
Much like a child born of mixed ethnicity, this diverse history adds to the allure and beauty.  It's common to see two adjacent structures from very different historical periods.
(Sidenote: If you are visiting Colonia, be sure to not only embrace the Uruguayan culture, but their language. I used this Spanish program. You can download it now and begin immediately.)
After our bus ride to Colonia, about 3 hours from Montevideo, we walked the 7 blocks from the bus station to the heart of the city.  No signs of life could be seen in these 7 blocks.  Summer days in the interior of Uruguay are hot and, often, people just stay inside with the Persianas drawn.  Persianas are like industrial strength blinds to keep out warmth, sun, and light.  Also, people here need them because they sleep a lot during the weekend days…refer to my article on Uruguayan nightlife.
The question of whether or not to take a tour of the city never entered our minds.  We just went to self-explore.  However, upon entering the city, a tourist bus was disembarking.  Vicky and I looked at each other and immediately had the same thought:  Let's stealthily join the tour. 
So, there we were outside the city gates, being given a historical tour of Colonia.  My first thought was:  These gates must not have protected the city very well what with all of the ownership changes.  Be that as it may, they were too big for me to scale, so I walked through them.
We abandoned the tour after about 20 minutes as I was not understanding most of what the tour guide said and Vicky was bored with it.  So, we ventured to the lighthouse.  When you're in Europe, you go to Cathedrals and Castles.  When you're on the coast of Uruguay, you go to lighthouses.  Like with Cathedrals in Europe, you become somewhat desensitized after climbing many a lighthouse.  You walk up, you look, high-five, kiss, hug or whatever, and then you come back down and you say, "That was nice, should we get a drink now?"
We held off on the drink for awhile as we walked the old cobble stone streets, tried on some hats and gloves, went to the peer, and then happened upon something that you must do in Colonia…rent a dune-buggy.  I really don't know what this riding contraption is called,  but it was sure fun.  Take a look at the picture and give it your own name.  It's $15 for an hour and affords you the opportunity to get outside the city, which is very small.
After the dune-buggy, it was nearing 7:30pm and we were hungry.  7:30pm is an early hour to eat for Uruguayans so we were one of the few parties at the restaurant.  There, we ate the best meal that I, or Vicky, have had on our travels.  It was at a restaurant called The Drugstore.  I fully recommend it.  And when you're there, tell them Richard sent you, but only if you want to here this retort:  "so what, who's Richard."
After this outstanding dinner, we got some ice cream and headed back to Montevideo.  When we returned, we saw on the news that the Portuguese have once again taken back Colonia.  I'm glad we visited when we did 🙂
Other Quick Notes and Facts: 
Visit here to check the bus schedules from Montevideo (bout $15).   As always, buses leave from Tres Cruces in Montevideo.
Here is a tourism video of Colonia in Spanish .  View this after your trip so that you are not adversely influenced.
It's not a party city.  It's a small historical city to stroll, shop, and have a day of leisure.  If you want to party, go to the beaches.
There's a Four Seasons hotel there which I've heard is outstanding.  We drove past it in the dune-buggy, but they took one look at us that said:  Don't even think of coming in here with that thing! 

Richard Cummings is a writer, traveler, and web content developer.

Get your copy of his latest book entitled Obvious Conclusions, stories of a Midwestern emigrant influenced and corrupted by many years living in San Francisco and abroad. It just received its first outstanding review "...reminiscent of David Sedaris or Augusten Burroughs" on Amazon UK.

Latest posts by Richard Cummings (see all)