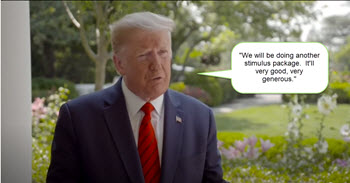 In an interview yesterday, President Donald Trump said that there will be a very generous second stimulus check of 2020 forthcoming.
What we don't know is this: was he telling the truth and when would a second stimulus happen?
There are several factors that may indicate he was not telling the complete truth.
(We now know the truth.  Yes, Donald Trump was, like always, exaggerating.  See below what the "very generous" check will be.)
Firstly, his Treasury Secretary Steve Mnuchin continues to opine that a second stimulus should be more jobs-focused rather than a direct check to the American people.